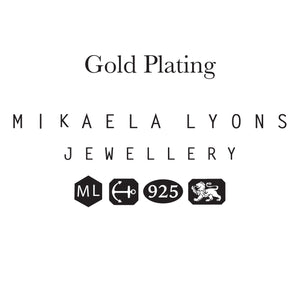 Fabulous as always! Really excellent quality and beautiful finish! Thanks so much for the wonderful service xx
Hey Kate, always a pleasure and thank YOU for being such a lovely customer! Mikaela
The best service to keep your jewellery as new
I've had my necklace for a while now and was so happy to see this service was offered! Mikaela has it back to me quickly and it's looking as new. She been fixed the clasp that had broken too, which was appreciated. Thank you 🧡🧡🧡
Hi Clare, thank you so much for taking the time to review. I am so pleased you are happy with your refreshed piece and it was a pleasure to fix it at the same time. Thanks again
Mikaela
I love my earrings so much
These earrings are so perfect I basically repierced my earlobes to be able to wear them
Hi Katherine,
Thanks so much for your review! Hope you continue to enjoy them!
Mikaela
Beautiful & Unique Gift
I am delighted with my order - a mirror pendant engraved with a name & special date. Such beautiful quality and the engraving is perfect!
Thank you so much for the review Tor, I really appreciate it.
Mikaela
RE-PLATING SERVICE
I bought a Mikaela Lyons silver pendant for my daughter some ago. In the meantime my daughter became a fan of gold jewelry and rarely if ever wears her silver pieces. I made enquiries with Mikaela and was delighted to discover that she provides a gold plating service for her pieces. I sent the pendant to Mikaela and had it back within a very short space of time. My daughter is delighted with the result and hasn't taken the pendant off since she got it back. I would highly recommend Mikaela's gold plating service.
Thanks so much for taking the time to write a review Cathy, I am so happy to have re-vamped your daughters pendant for her and that she is now enjoying it
All the best Mikaela
---